Wellbeing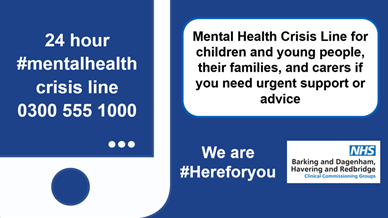 If you are looking for advice or support with your child's wellbeing there are many organisations that help and guide you.
Click here for information and contact details of the school nurse team drop in.
Click here for information about Educational Psychology parent support helpline.
Home School Support Worker introduction letter 25.02.2022
Click on the links below for further information:
Add up- support for parents of children with ADHD
Butterflies group- Peer support group for parents and parents to be
St. Kilda Centre- Free parent surgeries, advice on behaviour and a range of other topics
St Kilda Family centre weblink
Sycamore Trust- Supporting families with Autism and/or Learning difficulties
Wise up- Specialist service for parents concerned about drugs or alcohol
Reading Well- Book list supporting a range of topics (Key stage 2 pupils)
You and me counselling- parent support group
You and me counselling service
Click on the links below to download a range of leaflets and information sheets:
Havering CAMHS back to school resources- September 2021
Havering Mind- Be nice to your noggin
Havering CAMHS How to cope with the new normal- November 2020
Anna Freud- Tips for Talking for parents and carers
Mental Health Problems in children and young people: Guidance for parents and carers
Perfectionism: A guide to when striving for excellence becomes unhealthy
Social Media and young adults: a practical guide
Supporting children through secondary transition
Click here download a useful guide to a range of Helplines that you or a family member/friend might find useful.
Click below to find out about parent courses.
Havering Mind- Parent support group sessions for parents with children aged 11-25 Starting 10th November.