Wellbeing
If you are looking for advice or support with your child's wellbeing there are many organisations that help and guide you.
Click on the links below for further information:
Add up- support for parents of children with ADHD
Butterflies group- Peer support group for parents and parents to be
St. Kilda Centre- Free parent surgeries, advice on behaviour and a range of other topics
St Kilda Family centre weblink
Sycamore Trust- Supporting families with Autism and/or Learning difficulties
Wise up- Specialist service for parents concerned about drugs or alcohol
Reading Well- Book list supporting a range of topics (Key stage 2 pupils)
You and me counselling- parent support group
Click on the links below to download a range of leaflets and information sheets:
Havering CAMHS How to cope with the new normal- November 2020
Anna Freud- Tips for Talking for parents and carers
Mental Health Problems in children and young people: Guidance for parents and carers
Perfectionism: A guide to when striving for excellence becomes unhealthy
Social Media and young adults: a practical guide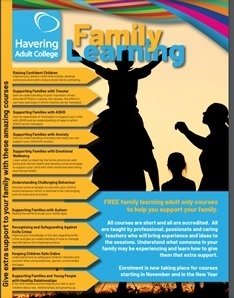 Click on the poster to find out more about Family Learning Courses.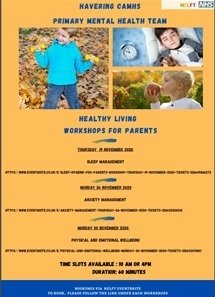 Click here for information about Havering CAMHs team November Healthy Living workshops.